For Meeting Planners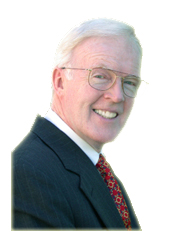 John Madden helps businesses and people become more successful. He does this by sharing effective techniques, which have worked for him and others.
John is an international speaker, author, and trainer, who formerly managed multiple hotels and restaurants in Europe and in the United States. 
He presents lectures and seminars to all industries,  associations, and government, throughout The United States and overseas, on leadership, personal success, customer service, coaching skills, time and stress management, and the power of humor.
John is a member of the National Speakers Association and has authored articles and audiotapes on his various topics.
His first book, "Leap, Don't Sleep!"- How to get different results by doing something different – was published in 2002, and is now in its fourth printing.
"Thank you, John, from all of us at Kansas Turnpike for your uplifting and entertaining workshop on managing stress at our annual management meeting. We all got some great practical ideas, and we had fun at the same time." 
Lisa Callahan, P.R. Director, Kansas Turnpike Authority
"John, thank you for providing an outstanding presentation on "Coping with Stress and Using Humor". The response was excellent and participants rated your presentation as outstanding."
Mac D. Manning, Director of Education, City Clerks & Municipal finance Officers Association of Kansas